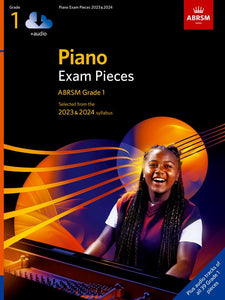 ABRSM Piano Exam Pieces Grade 1 with Audio 2023-2024
Tax included.
Shipping
calculated at checkout.
---
---
The ABRSM 2023-2024 Piano Selected Pieces for Grade 1

List A
1. Allegretto in C: No.3 from Die ersten 12 Lectionen, Op. 125 - Anton Diabelli
2. Dragonflies: from The Greenwood Tree - Marjorie Helyer
3. Minuet in C: No.10 from 24 Short and Easy Pieces, Op.1 - Alexander Reinagle

List B
1. Fresh Air - Andrew Eales
2. A Morning Sunbeam: No.3 from Three Sketches for Little Pianists - Florence B. Price
3. The Quiet Wood - Micheal Head

List C
1. Virginia Hall - Shruthi Rajasekar
2. Sneaky Business: from Jazz, Rags & Blues, Book 1 - Martha Mier
3. Little Whale Explores the Calm Sea - Caroline Taylor
New for the 2023 to 2024 season, the ABRSM Piano Exam Pieces for Grade 1 contains the 9 pieces in lists A, B and C for the Grade 1 Piano Exam.
Includes unique access to Audio performances of the pieces via a code.
 
---
We Also Recommend