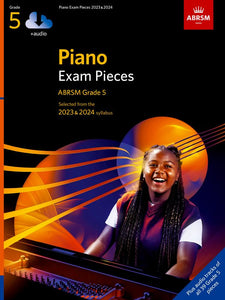 ABRSM Piano Exam Pieces Grade 5 with Audio 2023-2024
Tax included.
Shipping
calculated at checkout.
---
---
The ABRSM 2023-2024 Piano Selected Pieces for Grade 5

List A
1. Allegro: third movement from Sonata in C minor, C.68 - Dominico Cimarosa
2. Minuet and Trio: second movement from Sonata in D, Hob. XVI:4 - Joseph Haydn
3. Jester's Jig: No.7 from A Royal Birthday Celebration: Suite in Baroque Style - Chee-Hwa Tan

List B
1. Minnelied: No.7 from Stimmungsbilder, Op.88 Heinrich Hofmann
2. Wind in the Willows: from Allsorts - Bernadette Marmion
3. Philomena - Dorothy Pilling

List C
1. In the Groove: from 20 Piano Studies - Mike Cornick
2. Scherzo: No.14 from 30 Children's Pieces, Op.27 - D.B. Kabalevsky
3. A Distant Star in the Stillness - David A.T. Onac

New for the 2023 to 2024 season, the ABRSM Piano Exam Pieces for Grade 5 with Audio contains the 9 pieces in lists A, B and C for the Grade 5 Piano Exam.

Includes unique access to Audio performances of the pieces via a code.
---
We Also Recommend