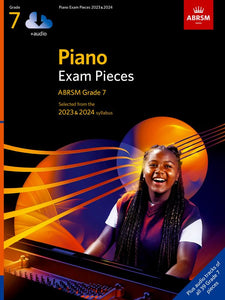 ABRSM Piano Exam Pieces Grade 7 with Audio 2023-2024
Tax included.
Shipping
calculated at checkout.
---
---
The ABRSM 2023-2024 Piano Selected Pieces for Grade 7

List A
1. Allegro moderato: first movement from Sonata in B minor, Hob.XVI:32 - Joseph Haydn
2. Allegretto: No.4 from Ctvrtky a osminky. H.257 - Bohuslav Martinu
3. Tempo di minuetto: third movement from Sonata in A - Marianne von Martinez

List B
1. Mazurka in A minor, Op.68 No.2 - Fryderyk Chopin
2. At the Evening Window: No.4 from Four Stories - Jan Friedlin
3. Calme du soir: No.2 from 10 petits morceaux, Op.94 - Moritz Moszkowski

List C
1. New Kid: No.19 from The Christopher Norton Jazz Preludes Collection - Christopher Norton
2. Prelude: Twilight, Op.69 - D.G. Rahbee
3. White Light Chorale - Param Vir
New for the 2023 to 2024 season, the ABRSM Piano Exam Pieces for Grade 7 with Audio contains the 9 pieces in lists A, B and C for the Grade 7 Piano Exam.

Includes unique access to Audio performances of the pieces via a code.
---
We Also Recommend