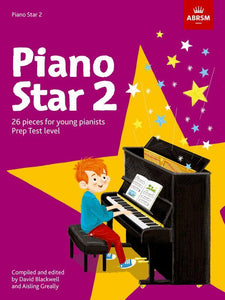 ABRSM Piano Star Book 2 Prep Test level
Tax included.
Shipping
calculated at checkout.
---
---
ABRSM: Piano Star Prep Test level Book 2 (Blackwell & Greally)
ABRSM's Piano Star is an exciting series for young pianists, offering a rich selection of new repertoire to help players build confidence and musical skills.
Piano Star Book 2 is at ABRSM Prep Test level and provides alternative repertoire for that assessment and includes compositions by David Blackwell, Edmund Jolliffe, Mike Cornick, Aisling Greally, Christopher Norton, Mark Tanner, Sarah Watts, Alasdair Spratt, Andrew Eales, Heather Hammond, Karen Marshall, Nicholas Scott-Burt, Nancy Litten, Paul Harris, Alan Bullard and Peter Gritton.
Key features of the series:
Solo pieces, plus a number of duets
A rich mix of musical styles, with techniques introduced progressively
Fun extension activities
Beautifully illustrated
---
We Also Recommend