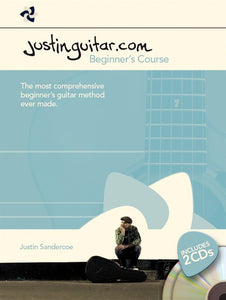 Justinguitar.com Beginner's Course
Tax included.
Shipping
calculated at checkout.
---
---
The most comprehensive beginner's guitar method ever made.
This book contains a complete course for anyone wanting to learn how to play acoustic or electric guitar.
The course is divided into nine stages; each stage has enough new material to keep you busy, but not sop much that you'll feel overwhelmed. Each stage has a practice routine and ear-training exercises that will help you quickly improve. The book comes with two specially recorded CD's containing demonstrations of every chord, technique and exercise you'll need.
Along the way you'll learn
How to choose a guitar, amp and accessories
How to read chord boxes and tab
Tuning Up
All the important open and power chords
Rhythm guitar techniques
How to practice
Playing a 12-bar blues
Fingerstyle patterns
The pentatonic scale and basic improvisation
and much, much more.
---
We Also Recommend